Eagle Hunters: A 6,000-Year Tradition of the Mongolian Kazakhs
The Altai region, located in western Mongolia, is one of the most remote regions of the world. Although a few ancient roads connect the entire area. No light of modern civilization has yet reached there. In winter, the snow-capped mountain peaks can be seen across the vast area, while in summer, the gray sandy landscape can be seen. Geographically, the area borders Mongolia, Kazakhstan, China, and Russia respectively. But there is no border wall. As a result, many times it is not even understood which place belongs to which state. But the place relevant to our discussion today belongs to Bayan Aligi, one of the provinces of Mongolia. A special indigenous population lives in this barren land of Altai, at an altitude of about 3,000 meters above sea level. A long time ago they came from Kazakhstan and started living here, hence their name Kazakh.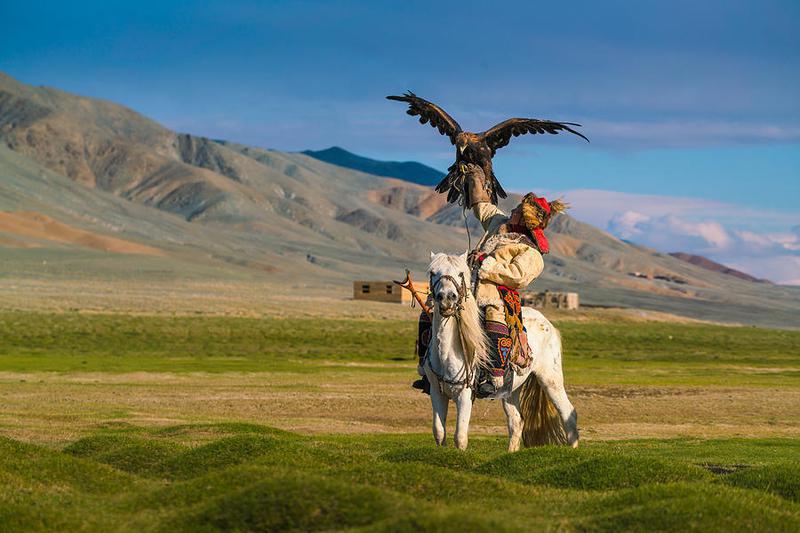 They have a special hat made of fox skin and fur on their head and a special dress made of sheep skin and fur on their body. Not only is this variety of clothing their specialty, but they still retain many ancient traditions. Among the most exciting traditions is living in rock houses at the foot of the mountain and petting and hunting eagles. A vast mountainous region under the Altai Mountains of Mongolia. The history of the adventures of Kazakh hunters on horseback and carrying a golden eagle in outstretched arms dates back 6,000 years. A rugged-looking father and his son, clad in animal skins, ride on horseback to escape the sub-zero temperatures and bitter cold currents, an enormous golden eagle blindfolded in their outstretched hands. Whenever a fox runs across the plains below. The eagle's blindfold is untied and the eagle soars to catch its prey. This is the test of a seasoned hunter's skill and honor. In this age of information technology in the 21st century, the scene is very rare to many. But this tradition of Kazakhs is not really modern. It is also mentioned in Bronze Age cave paintings. It is also mentioned that Genghis Khan was a particular fan of hunting with eagles along with his grandson. It is a tradition among the Kazakhs who live in the foothills of the Altai Mountains in Mongolia. Which they still hold.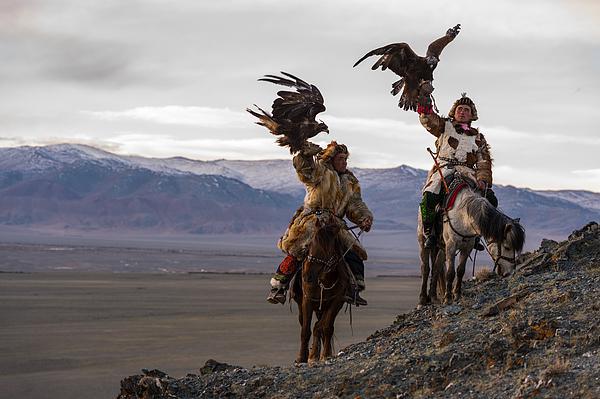 Why hunt with eagles?
Golden eagles are not primarily hunted for meat, but rather for fur and skin. The main prey is red and Corsac foxes (a small breed of the yellowish-brown fox), hares, wild cats, and occasionally small breeds of wolves; None of those is anything to the strength and agility of the mighty golden eagle of great size. These eagles weigh around 7/8 kg. The sub-species of this eagle known as the Siberian golden eagle, Orkut, is one of the largest eagles in the world. Commonly used for hunting are large female eagles, with a wingspan of about 2 meters and talons of about 6 cm. An eagle hunter needs special technique, skill, and courage to hunt through this huge bird weighing 8 kg. Only 240 Kazakh eagles per thousand engage in this hunting strategy. This technique has been passed down from generation to generation, mainly among the semi-nomadic Kazakhs. Generally, this hunting expedition is conducted during winter. Another reason for hunting with eagles is their keen sense of smell. They can detect the location of prey by smelling it from a long distance.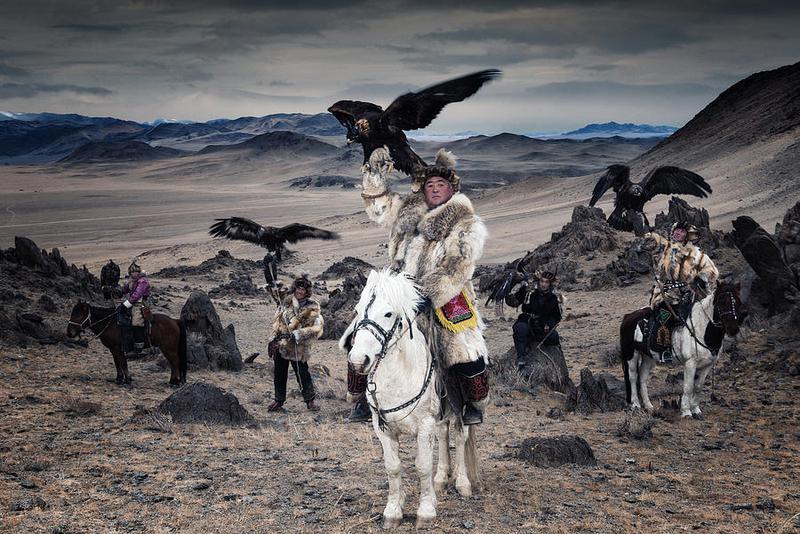 Introduction to Kazakh eagle hunters
About 100,000 Kazakhs live in the western part of Mangalia. They mainly live in the semi-sovereign part of Bayan-Ulgii province. Although the Mongols are predominantly Buddhist, the Kazakhs distinguish themselves from the Mongols by using the Kazakh language and practicing Islam. The vast blue sky above the head and the vast land beneath the feet, this scene is thousands of years old with the eagle in hand. They live across the Eurasian steppe, a haven of civilization and culture.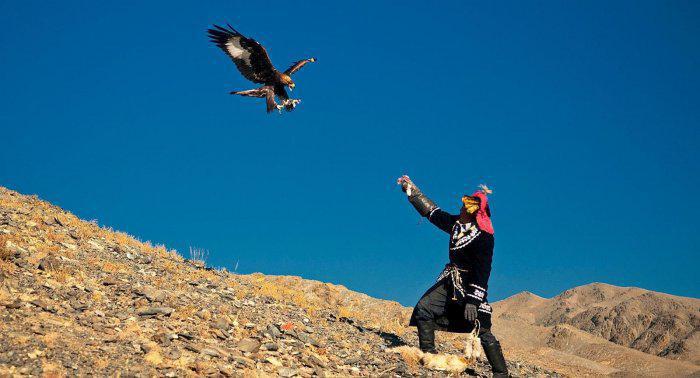 Eagle capture and training methods
Usually, female eagles are captured at a few months of age when they can live without a nest but have not yet learned to fly. The eagles are cared for and trained by the hunter himself. This is how a close relationship develops between them. This hunting expedition takes place only in winter when the surrounding area is covered with snow. When spring arrives, it's time for prey animals to give birth, and eagles also shed their old feathers to start growing new ones. At the same time, they stop hunting. During summer the birds are tied to wooden poles or stones. They are given food in that condition. Kazakhs also raise livestock, so there is never a shortage of meat for the eagles. In this age of modernity, this tradition may seem cruel to many. But one thing should be kept in mind that they are not primarily pets, here their role is as "working animals". It is much likened to Vera's herding dog; Not to domestic pets. However, the relationship between Kazakhs and these eagles is very deep. To them, these eagles are like their own family, which is not possible to understand from the eyes of outsiders. In an interview with Al Jazeera, this Kazakh said that these eagles are like my children.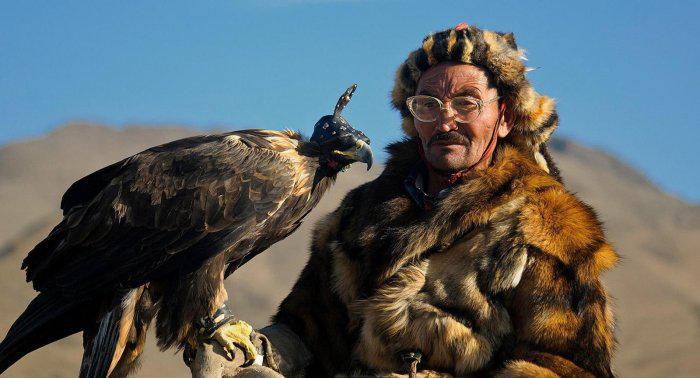 Travel opportunities for tourists
Today, the hospitality of the Kazakh community in Mongolia is open to adventurous tourists. Anyone can travel there, and get up close and personal with their hunting techniques, the relationship between eagles and hunters, and the traditions and culture of the Kazakh community. These Kazakhs, a Muslim community, are famous for their hospitality. Besides, the traditional Golden Eagle festival is celebrated there in spring and autumn. At that time any tourist can stay there with local families and enjoy their various traditional games and dances. However, if you want to experience hunting with eagles, you must go to the remote Altai mountain region in winter. In winter, the thrill of hunting eagles on horseback like the local Kazakhs can be witnessed by any wanderlust tourist.