Israel aims to end its responsibility for Gaza as ground offensive looms
Defence Minister Yoav Gallant has said Israel's military assault on the besieged Gaza Strip aims to end Israeli responsibility over the Palestinian territory.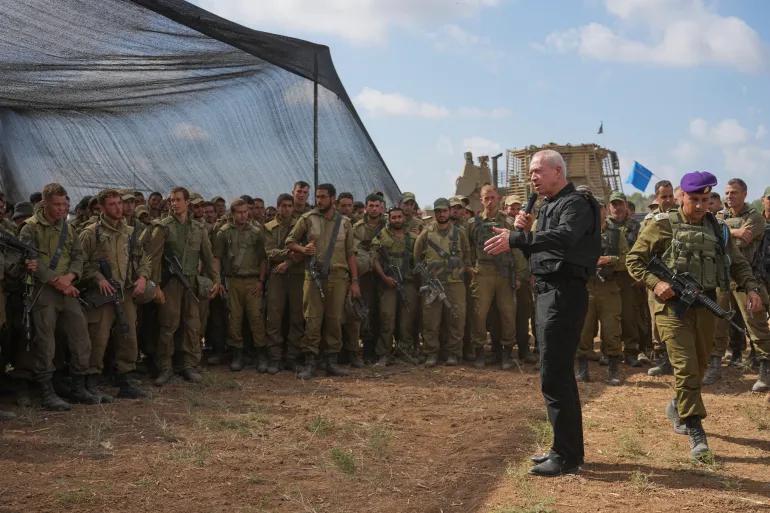 The 2.3 million residents in Gaza have no access to the outside world except through Israel, which controls most of the territory's land and sea boundaries, and Egypt, which has a narrow land border to the south. Israel has enforced a strict blockade on the enclave since Hamas took over the territory in 2007, including comprehensive curbs on exports and imports, and severely restricting transit in and out. Egypt has largely supported the blockade. The Israeli defense minister, briefing a parliamentary committee on Friday, said Israel's military campaign in Gaza will unfold in three phases with the goal of establishing a "new security reality".
He said the first phase, which was underway, would involve the destruction of Hamas military infrastructure. The second phase would include "lower intensity" operations and aim to "destroy pockets of resistance". "The third phase will require the removal of Israel's responsibility for life in the Gaza strip and the establishment of a new security reality for the citizens of Israel," the minister said, according to a statement from his office. The comments have come almost two weeks after Israel launched a devastating campaign of air raids on Gaza after Hamas fighters carried out a surprise attack on southern Israel.
At least 1,400 people were killed in the Hamas attack, according to Israeli authorities. Israel has since bombarded Gaza relentlessly, killing more than 4,000 people and destroying entire neighborhoods, according to Palestinian officials, and imposed a "complete siege" on the territory, cutting supplies of food, water, and fuel. Israeli officials have promised to "completely destroy" Hamas amid expectations that Israeli forces are preparing for a ground invasion of Gaza.