Israel doubles number of Palestinian prisoners to 10,000 in two weeks
Israel has arrested so many Palestinians in the two weeks since the start of its bombardment of the besieged Gaza Strip that it has doubled the number of Palestinians in its custody.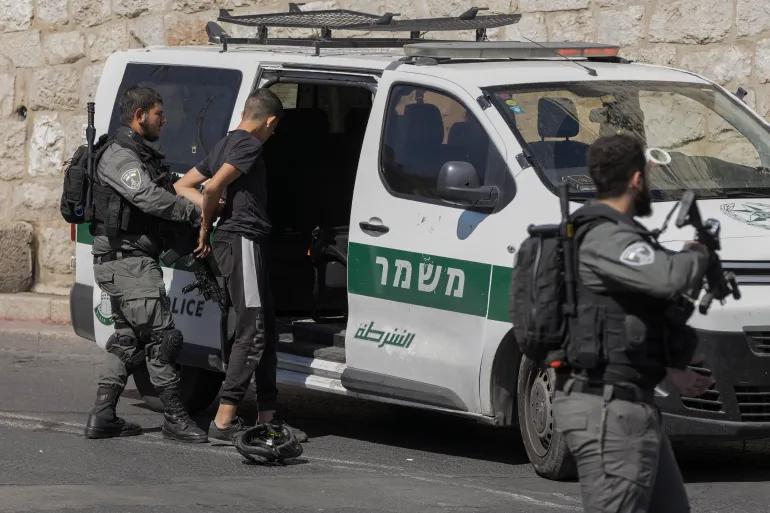 There were about 5,200 Palestinians in Israeli prisons prior to October 7 when the Palestinian armed resistance group Hamas launched an attack on Israel, which responded almost immediately with a relentless bombing campaign. The number of prisoners has now risen to more than 10,000 people, Palestinian officials said on Thursday afternoon. Over the past two weeks, according to officials and rights groups, Israel has arrested some 4,000 labourers from Gaza who were working in Israel and is holding them in military bases. Separately, it has also arrested 1,070 other Palestinians in overnight army raids in the occupied West Bank and East Jerusalem.
"Arrests are taking place 24 hours a day," Sahar Francis, head of the Ramallah-based Addameer prisoners' rights group, told Al Jazeera. Most of the people from Gaza are being held at a military base called Sde Teyman, near Beer al-Sabe (Be'er Sheva) in the southern Naqab desert, she said. Hundreds of others are being held in Ofer prison near Ramallah, and in the Anatot military camp near the village of Anata in occupied East Jerusalem. Palestinian lawyers and officials have highlighted the severe mistreatment and dire conditions under which detainees are being arrested and held.
At a press conference on Thursday afternoon in Ramallah, head of the Palestinian Authority's Commission for Detainees' Affairs Qadura Fares, said recent developments regarding prisoners are "unprecedented" and "dangerous". "We hesitated a lot about holding this press conference addressing yet another chapter of Israeli crimes, on what our male and female prisoners are being exposed to in the occupation's prisons, for fear of creating tension and anxiety among the families of prisoners, and our Palestinian people in general," said Fares.