Russian missile strike kills seven and injures 129
Seven people, including a six-year-old child, were killed when a Russian missile struck a theatre in the northern Ukrainian city of Chernihiv, officials said. Fifteen children were among 129 people wounded, the interior ministry said. At least 25 people were in hospital.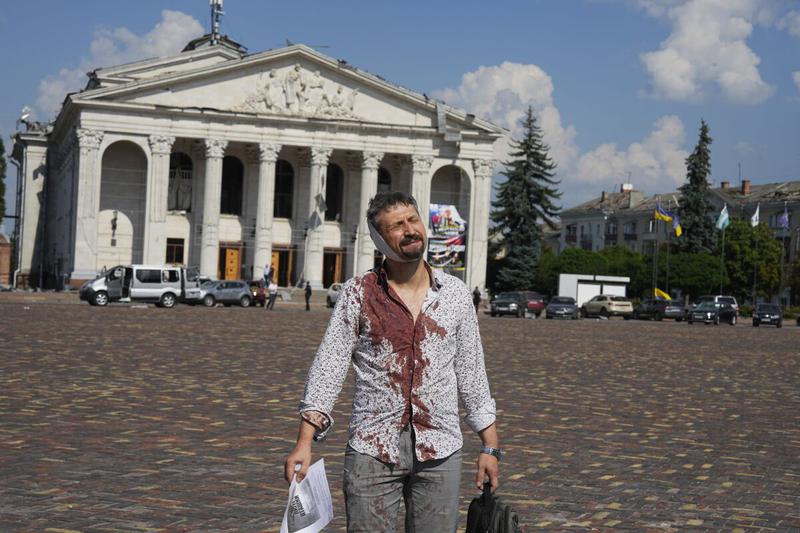 Among the victims were people who had been celebrating an Orthodox holiday at church, the ministry said. A main square and a university building were also damaged in the attack. The UN called it "heinous". The city's imposing theatre was hit directly. Tiles were blown off the roofs of neighbouring buildings with one catching fire 100 metres away. The theatre was hosting a gathering of drone manufacturers, Oleksandr Lomako, acting mayor of Chernihiv, told the BBC. He called the attack "a terrorist attack" and a "war crime". Chernihiv is located around 50km (31 miles) from the border with Belarus. It was besieged by Russia at the beginning of the invasion.
"I understand that their aim was a military event taking place in the building of the drama theatre and that it was their target," he said. "But it is clear that the Russians launching those missiles and those giving them orders in the middle of the day to the civilian city realized that the victims will be primarily civilians. "There is no other way to interpret it than a war crime against civilians, yet another Russian war crime," he added. Ukrainian President Volodymyr Zelensky said Russia had turned an "ordinary Saturday" into "a day of pain and loss".